Summertime is finally here and this season is perfect for fluffy romance or even dark contemporaries by the beach or in your garden. I get most of my reading done during this time of the year and I'm sure that I am not the only one. This time is different though because I don't go to the same school anymore where I used to have 3 month long vacations and could finish as many books and TV shows as I wanted (internally crying). I feel like I have so many things to do in these two months and the days are passing by so fast. I'm hoping I can get through the 7 books I have chosen for my summer reading list.
---
1| The Sky Is Everywhere
Author: Jandy Nelson
Page Count: 277
Format: Paperback
ISBN: 0142417807
Goodreads Synopsis: Seventeen-year-old Lennie Walker, bookworm and band geek,
plays second clarinet and spends her time tucked safely and happily in the shadow of her fiery older sister, Bailey. But when Bailey dies abruptly, Lennie is catapulted to
center stage of her own life - and, despite her nonexistent history with boys, suddenly
finds herself struggling to balance two. Toby was Bailey's boyfriend; his grief mirrors Lennie's own. Joe is the new boy in town, a transplant from Paris whose nearly magical
grin is matched only by his musical talent. For Lennie, they're the sun and the moon; one boy takes her out of her sorrow, the other comforts her in it. But just like their celestial counterparts, they can't collide without the whole wide world exploding.
- Ever since I read Jandy's other book "I'll Give You the Sun", I've been wanting to pick up another book by her. I really loved that book and it was one of
my favorite books of 2015
. I've heard good things about this one too so I can't wait to get into it.
---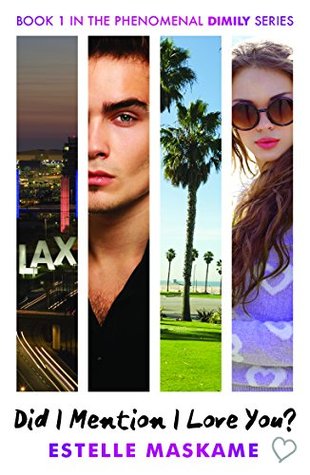 2| Did I Mention I Love You?

Author: Estelle Maskame

Page Count: 421

Format: Paperback

ISBN: 1845029844
Goodreads Synopsis: When sixteen-year-old Eden Munro agrees to spend the summer with her estranged father in the beachfront city of Santa Monica, California, she has no idea what she's letting herself in for. Eden's parents are divorced and have gone their separate ways, and now her father has a brand new family. For Eden, this means she's about to meet three new step-brothers. The eldest of the three is Tyler Bruce, a troubled teenager with a short temper and a huge ego. Complete polar opposites, Eden quickly finds herself thrust into a world full of new experiences as Tyler's group of friends take her under their wing. But the one thing she just can't understand is Tyler, and the more she presses to figure out the truth about him, the more she finds herself falling for the one person she shouldn't – her step-brother. Throw in Tyler's clingy girlfriend and a guy who has his eyes set on Eden, and there's secrets, lies and a whole lot of drama. But how can Eden keep her feelings under control? And can she ever work out the truth about Tyler?
- This is the first book from a trilogy written by a young girl that actually used to publish chapters by chapters of this series years ago during her early teenage years on a site and on Wattpad too. I've always seen people raving about it during my stan years too but never read it. I've been following her on Twitter for years and I really think she deserves this book deal she got. She re-wrote the three books and they're all published now. I think this will be a perfect summer read and I cannot wait to start reading it then review it as it has been something I wanted to do for over a year now.
---
Author: Colleen Hoover


Page Count: 384


Format: Paperback


ISBN: 1501110365


Goodreads Synopsis:
Lily hasn't always had it easy, but that's never stopped her from working hard for the life she wants. She's come a long way from the small town in Maine where she grew up. She graduated from college, moved to Boston, and started her own business. So when she feels a spark with a gorgeous neurosurgeon named Ryle Kincaid everything in Lily's life suddenly seems almost too good to be true. Ryle is assertive, stubborn, and maybe even a little arrogant. He's also sensitive, brilliant and has a total soft spot for Lily; and the way he looks in scrubs certainly doesn't hurt. Lily can't get him out of her head, but Ryle's complete aversion to relationships is disturbing. Even as Lily finds herself becoming the exception to his no dating rule, she can't help but wonder what made him that way in the first place. As questions about her new relationship overwhelm her, so do thoughts of Atlas Corrigan, her first love and a link to the past she left behind. He was her kindred spirit, her protector. When Atlas suddenly reappears everything Lily has built with Ryle is threatened.
- I have not even read the synopsis of this book and I do not need to. It's Colleen Hoover. I always like going into her books without knowing much at all. She's my favorite author and I will buy and read whatever she writes. I am so excited for it to release in August and finally read it. This book is really close to Colleen's heart and she still hasn't started writing a new novel because she's stuck with the characters from this book so this must be really good.
---
4| All the Bright Places

Author: Jennifer Niven

Page Count: 388

Format: Paperback

ISBN: 0141357037


Goodreads Synopsis: Theodore Finch is fascinated by death, and he constantly thinks of ways he might kill himself. But each time, something good, no matter how small, stops him. Violet Markey lives for the future, counting the days until graduation, when she can escape her Indiana town and her aching grief in the wake of her sister's recent death. When Finch and Violet meet on the ledge of the bell tower at school, it's unclear who saves whom. And when they pair up on a project to discover the "natural wonders" of their state, both Finch and Violet make more important discoveries: It's only with Violet that Finch can be himself—a weird, funny, live-out-loud guy who's not such a freak after all. And it's only with Finch that Violet can forget to count away the days and start living them. But as Violet's world grows, Finch's begins to shrink.
- Although I'm probably going to cry reading Colleen's book, I still want another novel that's deep and heart wrenching so I thought this would be perfect. I did not feel like purchasing it though, so I borrowed it from the library. I am so excited to read this as there's been so much hype around this book and Zoella swears by it.
---

Author: Jenny Han

Page Count: 420

Format: Paperback

ISBN: 1407149075
Goodreads Synopsis:
Lara Jean keeps her love letters in a hatbox her mother gave her.
One for every boy she's ever loved. When she writes, she can pour out her heart and soul and say all the things she would never say in real life, because her letters are for her eyes only. Until the day her secret letters are mailed, and suddenly Lara Jean's love life goes
from imaginary to out of control...
- For more of a light romance read, I thought this duology would be perfect. There's quite a few booktubers that really liked this book and raved about it so I had to purchase them both and read them too.
---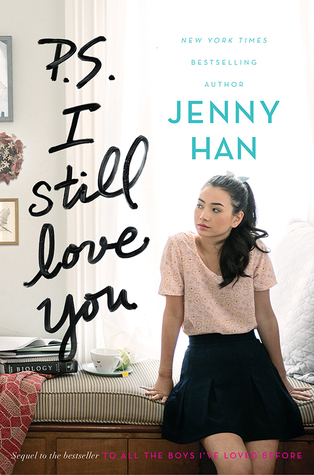 6| P.S. I Still Love You
(To All the Boys I've Loved Before #2)

Author: Jenny Han

Page Count: 337

Format: Hardcover

ISBN: 144242673X

Goodreads Synopsis: Lara Jean didn't expect to really fall for Peter. She and Peter were just pretending. Except suddenly they weren't. Now Lara Jean is more confused than
ever. When another boy from her past returns to her life, Lara Jean's feelings for him return too. Can a girl be in love with two boys at once?




---

Page Count: 384

Format: Paperback

ISBN: 1481449354

Goodreads Synopsis: Eden was always good at being good. Band geek. Book nerd.
Starting high school didn't change that. But the night her brother's best friend rapes her, Eden's whole world capsizes. What was once simple, is now complex. What Eden once loved—who she once loved—she now hates. What she believed was the truth, now lies. Nothing makes sense anymore, and she's never felt so alone in her life. She knows she's supposed to tell someone what happened. But she can't. So she buries it instead. And she buries the way she used to be. Told in four parts—freshman, sophomore, junior, and senior year—this provocative debut reveals the deep cuts of trauma. But it also demonstrates one young woman's strength as she navigates the disappointment and unbearable pains of adolescence, of first love and first heartbreak, of friendships broken and rebuilt, and while learning to embrace a power of survival she never knew she had hidden within her heart.

- This is a book I actually haven't heard anything about but it seemed quite intriguing. Once again, it seems like a deep book dealing with rape and other topics. I love having different types of books to read during the summer even if it's a contemporary or romance novel. Some can be really cute and light while others are deep and you end up bawling your eyes out, I love that. You know it's a really good book if it hits you in that way. I hope this ends up being a good book and doesn't disappoint me. I feel like some books dealing with rape, suicide or mental illnesses sometimes tend to disappoint and bother some people if it isn't written well, so I hope this isn't one of those.


---
What books are you planning to read for summer?